Exo-Planet, Class confirmed:
TrES-5b
Imaged/Calibration/Image solve:
PRiSM v11
Photometry and Data Fitting:
HOPS 3.1.2/Platform: Python 3.9
Instrument:
CCD: Atik383L+ (KAF8300M)
FILTERS: Clear
TELESCOPE: C11, 1670.0 mm
Site:
ORIGIN: Cepheid Observatory India
SITELAT: +24:55:00:00
SITELONG:+75:33:58:99
Observers:
Cepheid Observatory India, VS Observatory India
Remark:
Sky Clear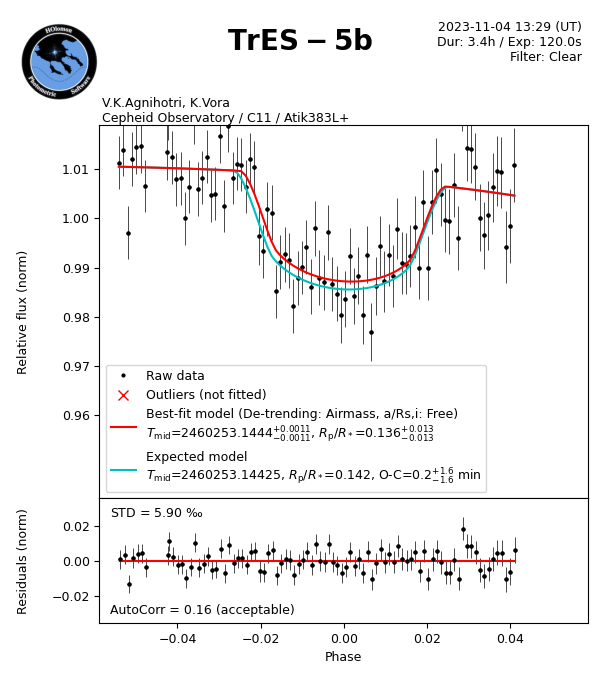 Results
Rp/Rs = 0.1361 ± 0.0049 (expected: 0.142 ± 0.0009)
O-C = 0.8 ± 1.87 minutes
Quality check
Residuals STD (Standard Deviation) = 5.915 ‰
Based on your past observations, this is better than expected (7.704 ‰). Great!
Diagnostics
Step 1: Transit SNR = 13.97
Transit SNR is good (strong detection of the transit)!
Step 2: Rp/Rs drift = -1.18σ
The Rp/Rs drift is good (Rp/Rs in good agreement with the literature)!
Step 3: Auto Correlation = 0.151
The Auto Correlation is good (no systematics in the data)!
Step 4: Shapiro test = 0.005
The Shapiro test is good (few or no outliers in the data)!